When Software Updates Add Useful Features
From the desk of Rich on Tech
Happy Friday and welcome to another edition of my newsletter! This is where I share the stuff I think you should know about in the tech world and go over some of the items I covered on air and online.
Also, congrats to you. You're part of a special crew of 10,000 folks who are getting this newsletter for free. I am now going to close it down to new free subscribers and make it a paid newsletter. It won't cost much to subscribe, but it might provide me some added motivation to continue to crank these out in a regular and high quality way. But you're in, so enjoy.
I'll let you in on a little secret: many times when you see me posting a picture like this, I'm actually testing out the camera on a new smartphone. Remember, any phone can take great pictures of flowers and building, but the true tests are kids (they move a lot) and groups of people, especially selfies. Now you know.
VIZIO adds AirPlay
VIZIO is doing something pretty cool with their TV sets: they are adding a bunch of new features through a software update. The most notable is AirPlay. This means you can finally show off your iPhone pictures on the big screen in a super simple way. You can also use Siri to play movies and TV shows, and stream content from AirPlay enabled apps.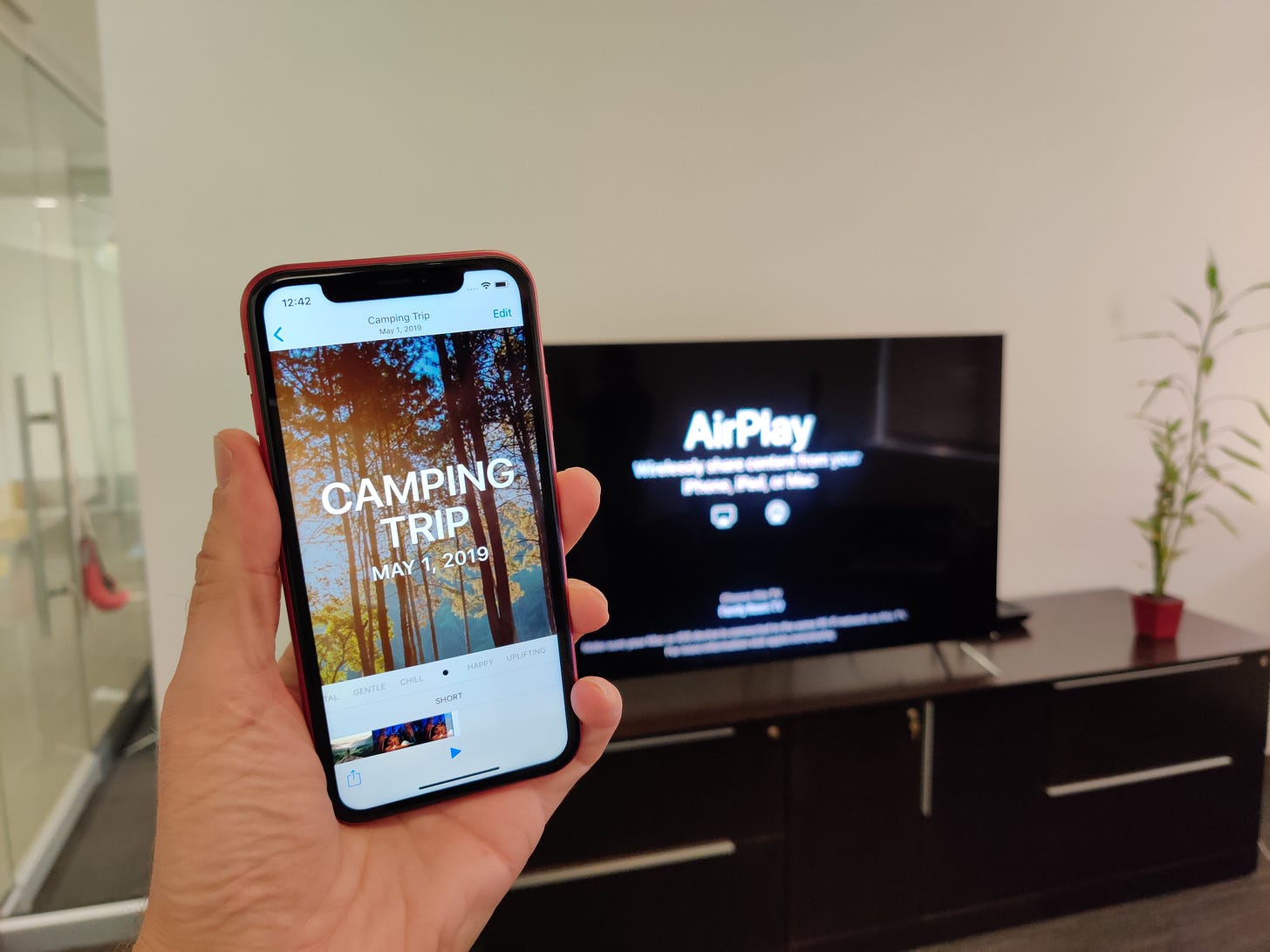 The update will hit TV's 2016 model year and up. BTW, if you have a Samsung, you're getting AirPlay as well. Their software update was released May 13 and will hit select 2018 TVs and many 2019 TV's. If you haven't checked for an update lately, now might be a good time.
LG and Sony TV's will get an update with the feature later this year.
https://ktla.com/2019/05/24/vizio-software-update-adds-airplay-to-existing-tv-sets/
Recognizing violence before it starts
We did a feature on an interesting new startup called Athena Security that's using Artificial Intelligence to detect crimes before they happen. The startup integrates into existing security camera setups and scans footage in real time for guns, knives, violence and even slips and falls.
The idea is that the system can identify a potential issue before even a human could. It can alert authorities, speak audible warnings and even automatically lock doors and elevators as a precaution.
https://ktla.com/2019/05/20/athena-security-ai-security-cam-violence-crime/
Digital Weight Lifting
Gym weight rooms can be intimidating, so what if you never had to step foot in one again? That's the idea behind Tonal, a high tech startup making a home workout machine you mount to your wall.
It looks like a vertical TV, but it's packed with virtual trainers who lead you through exercises. The device uses electrical resistance to create up to 200 pounds of weight.
It's not cheap: $3500 for the system, plus a monthly subscription fee, but hey, you never have to leave your house.
https://ktla.com/2019/05/22/tonal-machine-first-look/
T-Mobile Free Netflix Perk Now Costs $2 a Month
FYI if you have free Netflix through your T-Mobile plan. That perk will now cost you $2 a month. Netflix raised its prices, and T-Mobile is passing the extra cost on to you.
Don't want to pay it? Your options are to switch to the Netflix Basic plan, which doesn't including HD streaming or "turn off" the free Netflix perk.
https://www.t-mobile.com/brand/netflix-news
Lyft $20 deal
Lyft has a deal for LA riders where you can nab $20. Just take 5 shared Lyft rides before July 15 and they'll give you a $20 TAP credit.
https://blog.lyft.com/posts/2019/5/20/setting-our-sights-on-congestion
Finally, Video Editing on Android
This was a big week for creators who use Android devices. Up until now, there wasn't an easy way to edit video on these devices, and now there is.
Adobe released their mobile video editing app, called Premiere Rush, on Android. I've been using it since they launched it on iOS back in October, and it's pretty amazing what you can do on a mobile phone. Right now Rush works on select Android phones including new Samsungs, Pixels and OnePlus devices.
Here's a little video I shot on the Samsung Galaxy S10+ and edited with Rush. It's super simple, but incredible that you can do this all on a phone.
Are You Subscribed to my Podcast?
It's kind of like this newsletter, but with my voice, along with trusty Producer Meghan. I talk about all the stuff I think you should know about in the tech world + I answer the questions you send me each week!
It's called Rich on Tech, you can find it in Apple Podcasts and all the other podcast apps.
On this week's show: What to expect from Apple's WWDC; T-Mobile tweaks free Netflix perk; Ice T says Amazon delivery personnel should wear a special vest; A simulated Google Duplex call; Consumer Reports rips Tesla Autopilot; Cheapest way to use your phone abroad; a rear view dash cam; Facebook spying explained.
We also livestream the show each week on Facebook, so tune in around 10 am Thursdays.
Have a question you want answered on the show? Just email hello@richontech.tv with the subject line Podcast Question.
Thanks, Megan!
I got quite the shout out for my book from my colleague Megan Henderson!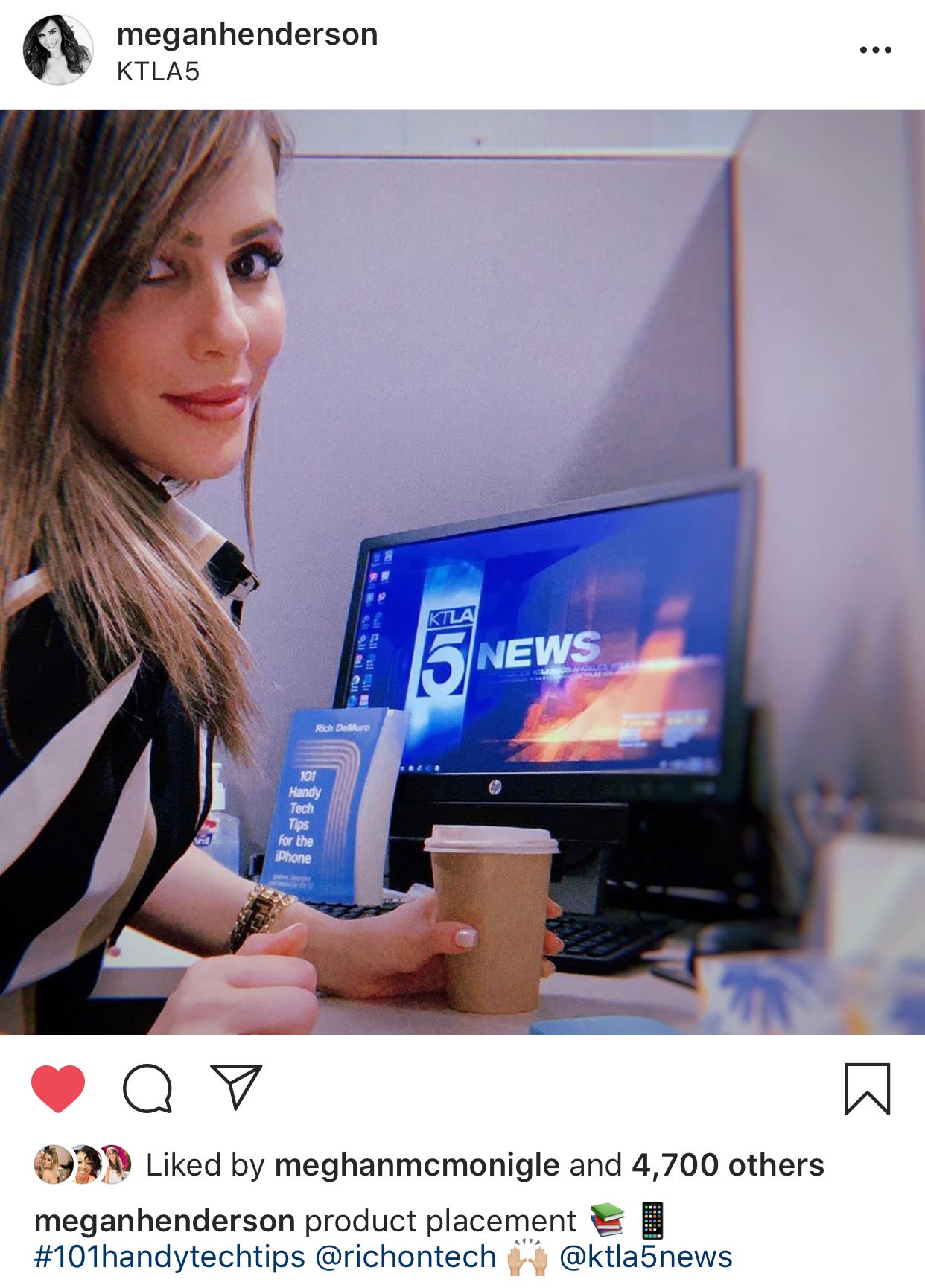 She surprised me with a great Instagram post featuring my book. As a reminder, it's called 101 Handy Tech Tips for the iPhone and it's packed with the useful little things your iPhone can accomplish. It's easy to understand and will help you get your money's worth out of your phone! It's available in paperback on Amazon now.
Thanks for reading!
Have a fantastic Memorial Day weekend and a major shout out to everyone who serves this amazing country of ours, past and present.
Rich