Only Open This If You Hate Robocalls
A newsletter from the desk of Rich on Tech
Greetings!
Well, well, well - it looks like I've stumbled upon something you like!
Last week when I sent out my first dispatch, I wasn't really sure what to expect. Then, the replies started coming in fast and furious. I kind of expected a bunch of emails asking me to never clog your inbox ever again, but it was quite the opposite.
A sampling:
Thanks for reaching out. I enjoy the work you do - Keith D.
I'm super excited your emailing again thank you so much for all you do, your so awesome - Angela H.
Thank you Rich, always enjoy your segments on 5 in the morning. I have learned so much. Please keep the emails coming, very informative - Lana H.
Really loved your newsletter. Hope you continue to share in this way!! - Candace H.
I'm so old school so it's nice to get new info in away that I can actually use it when I want to - Gail R.
As you might imagine, it made my weekend. So here we go again.
Apple Event
This was a big week in tech because Apple threw an event in Cupertino. But honestly, it was sort of a dud. Sure, they had big time celebrities like Oprah and Steven Spielberg on stage to announce they are working on new Apple-produced TV shows, but they didn't even show us any trailers! Kind of odd. Also, the audience was primarily tech folks who want to see tech products.
Still, Apple unveiled a paid news subscription called Apple News+, Apple TV+ and Apple Card, their credit card.
Apple News+ gives you access to 300+ magazines and articles from WSJ and LA Times for $10 a month. It's cool if you travel a lot or read a bunch of magazines. Apparently the subscriptions to the newspapers aren't the full thing. For what it's worth, I did have a subscription to the previous incarnation of this product called Texture, but I had to cancel it because literally all I did was sit around and flip through magazines for hours on end on the iPad. Then I would screenshot all the stuff I wanted to buy. It was fun, but in the end, I'd rather be reading books.
Apple TV+ has potential but it's not launching until May and then the fall for the new shows. In May, we'll see a new Apple TV app that lets you subscribe to "channels" including HBO, Showtime and others but see them all in one place. The channels drop off pretty quickly after those two. There aren't many gems in there. Also, Apple didn't say how much these individual channels would cost to subscribe to. It could add up pretty quick. As for Apple's own shows, this will be a subscription service as well, but again, no hint as to pricing. Netflix gives you a LOT for $13 a month so it most certainly has to be cheaper than that. In the end, while the a la carte thing has been a long time pipe dream of cord cutters, unless individual channels are a buck or two a month, it's tough to make those economics work.
Anyway, if you're interested in cutting the cord, a great resource website is called untangle.tv. You pop in the channels and shows you want to watch and it will spit out the equipment and services that you need to do it.
And no, KTLA is not currently on any streaming service right now. Many people have had luck calling up the ktla.com/live stream on their Fire TV web browser. It's not perfect, but it will work in a pinch. Look for the app labeled Firefox or Internet.
The announcement at the Apple event that got the most buzz seemed to be their new credit card. It's primarily a virtual card that lives on your iPhone, but there is a real card you can get as well (but with no numbers stamped on it at all). Apple wants you to use this card through Apple Pay by tapping your phone to checkout at the register. You'll get 3% back on any Apple transactions, 2% back on tap to pay transactions and 1% back when you use the physical card. One interesting thing Apple is doing is crediting your cash back daily as opposed to monthly like a typical rewards card. The dollars are deposited to an Apple Cash card on iPhone. Keeping it in the family. Smart.
High Tech Blood Pressure Monitor
Also this week, I took a look at a neat gadget called the iHealth Ease. It's a super simple way to take your blood pressure reading at home using your phone. We tested it out against the real thing at a hospital and it was pretty accurate. Not a bad deal, especially at $40. I thought my blood pressure was a little high but maybe I was nervous. Watch my TV segment here.
From Paul Mitchell to Cell Phones
I always love meeting successful business people. Recently, I met up with the guy who started Paul Mitchell and Patron Tequila. His name is John Paul DeJoria and he was one of the nicest people to interview. You'd recognize him with his signature ponytail. Anyway, he was super inspiring and its easy to see why he's been so successful in the past. His latest venture is a cell phone company called ROKiT. They're making affordable phones that range in price from $35-$300. The top of the line phone has a 3D screen. Personally, I like the $40 flip phone. It's a solid choice for a super basic phone and it's sold unlocked so you can just pop in a SIM card from a carrier of your choice. I like Mint mobile and Cricket for GSM. Watch my TV segment here.
Getting Rid of Robocalls
Robocalls are a pain. The past few weeks have been especially crazy, I feel like I was getting many more of them than usual, and so was my wife. Even my producer said she was getting a bunch. Verizon finally came out with their solution, a new app called Call Filter. You can download it for free in the App store for iPhones. If you have an Android phone, the app should be built into your device. Either way, update your apps for the latest feature, which is free spam call identification and blocking. When I mentioned this app on my Facebook Page and Instagram, a lot of you said that I was incorrect and you only get 10 free days of robocall protection and after that it's $3 a month. It's confusing, and perhaps Verizon could do a better job of this, but the NEW service is free, but yes, they still try to push you to a $3 monthly subscription that gets you caller ID on all of your calls.
If you have T-Mobile, you get Scam ID standard, but you do have to activate Scam Block. It's free.
With AT&T, they have an app called Call Protect which you can download and use for free.
Verizon now has Call Filter, which is free.
Robokiller works on any phone, but you do need to use conditional call forwarding, which I'm not a huge fan of but that's up to you. Hiya is another option to look into.
Fun App: VHS Camcorder
This is a neat little app. I know Instagram has similar functionality in it's stories function, but this is a standalone app called VHS Camcorder that makes your videos look like you took them years ago. You can even spoof the date on the screen and have some fun with your friends by "predicting the future." iOS and Android.
Another App I've been loving lately is called Raise. This one is a bit different, and it takes a little work, but so far according to the app I've saved $98.95 using it. It basically sells you gift cards at a discount. Sometimes the discount is big, other times it's small. Recently, I've used it for discounted cards at PF Chang's and IHOP. You buy the gift cards right through the app. Usually they're delivered pretty instantly. But just beware of a few things. First, they are all different, so read the fine print. Some gift cards can only be online or in store only. Just be aware. Others take longer to deliver, like up to 24 hours to appear on your phone. I found this out the hard way twice now. I was at the checkout at Old Navy and Home Depot and bought gift cards that didn't get delivered in time for checkout. So now I have to use them the next time I want to buy stuff. My advice: if you know you're going to be visiting a store or restaurant the next day, buy the gift card the day before. Raise has them for lots of brands, but the better the store, the less the discount. As in, Walmart might have a 1% discount while Cold Stone has a 25% discount. Where does Raise get the cards? From other folks who don't want them and sell them at a discount. Basically, if Aunt Beatrice gives you a $25 gift card and you sell it for $17 then you just made $17. Raise resells the $25 card for $20 and they just made $3 and someone else just saved $5. Follow me? The only loser here is Aunt Beatrice, sad for her. Use my referral code at Raise for $5 off your first card.
iPhone Tip
Here's a quick tip for you iPhone users. Open the Photos app, then select a photo. Now, swipe up on the photo itself. It will reveal a whole bunch of new options, including fun effects, the place where you took the photo, related pictures and even thumbnails of the people in it. Pretty neat, huh? I've got lots more fun stuff like this in my book, 101 Handy Tech Tips for the iPhone. Available now in paperback on Amazon or you can order a personalized, signed copy here. Makes a great gift, too :)
Cool Website
I'm always resizing images for web posts, Instagram, Facebook and more. Of course, you can do it the manual way and know the exact dimensions you need and find a cropping tool, or you can literally just drag and drop the image you want to resize on this website. Promo Image Resizer works fast and it's free. I'm a huge fan and it's one of my favorite bookmarks. I know it's not necessary for everyone, but you never know when you might need it for your job or a project you're working on.
Podcast and Radio
In case you don't know, I do a weekly podcast called Rich on Tech. In it, I discuss things I think you should know about the tech world. It's sort of like this newsletter but spoken. You can subscribe for free so you never miss an episode. It goes good with a long drive in the car, too.
In addition to my spots on KTLA in the 5, 7 and 9 AM hours, I also appear on KFI AM 640 in Los Angeles. You can hear me every Tuesday at 8 AM and Wednesday at 5:19 AM talking tech with my pals Jennifer Jones Lee and Bill Handel.
Tweet of the Week
Here's the funny thing about Twitter: people never know when I'm joking. I am from NJ and love my bagels and don't really care about carbs. Still, this tweet got quite the replies from folks. I guess I'm going to have to start using the hashtag #sarcasm.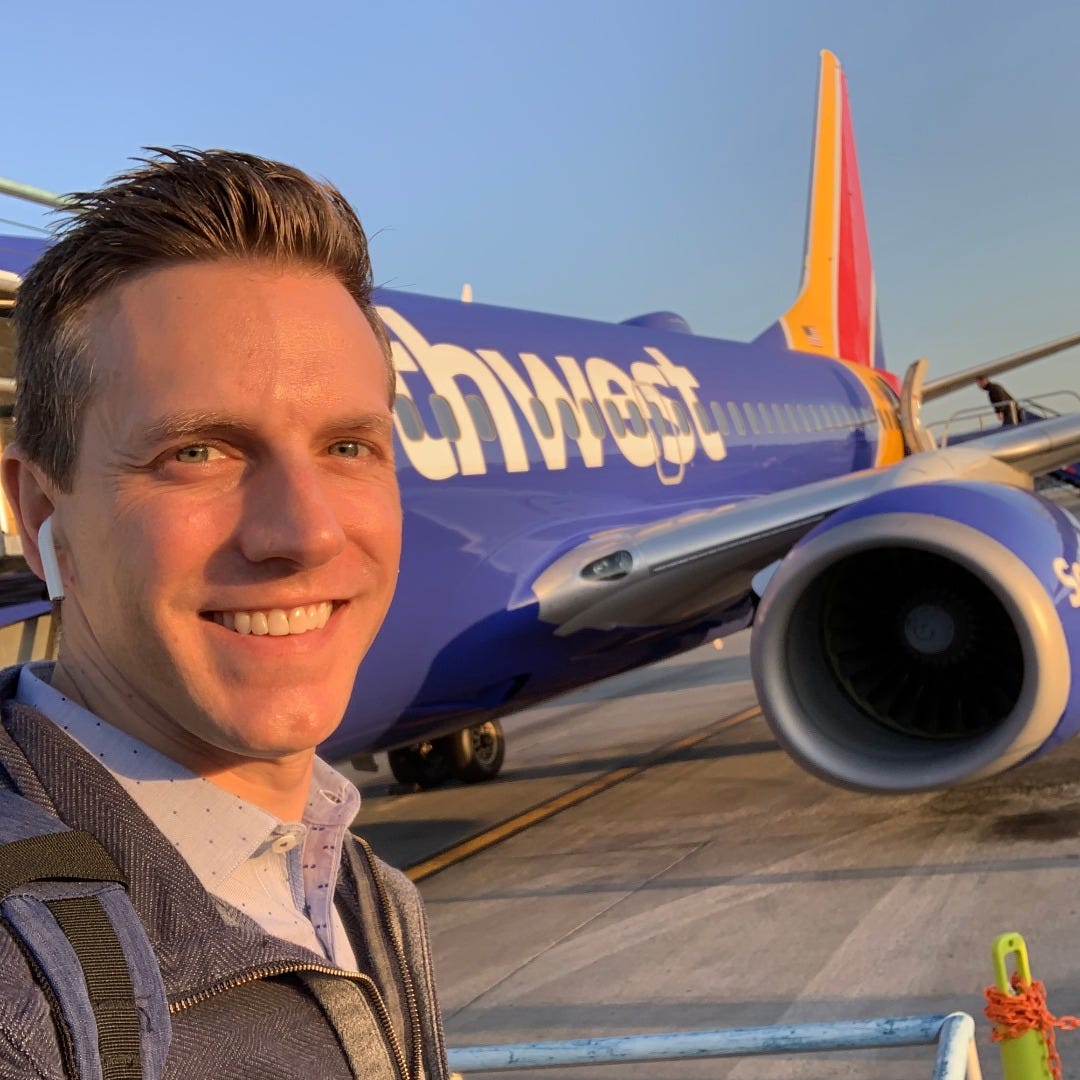 I want to hear from you
I travel a lot and I always love to visit the places that locals love. So please, let me know about a cool eatery near you that I can visit the next time I'm on the road. My goal is to bookmark them all in Yelp, then when I go somewhere I just look at my bookmarks and find a recommended place. So hit that reply button and let me know! Also, please keep in mind that although your email goes right to my inbox and I do indeed read them all, I might not be able to reply to every single message I get. I do my best, though, especially if you send in a tech question.
That's about all for this week. Have a fantastic weekend, find me on Instagram, and remember, I'm just a reply button away. Let me know what you'd like to see in a future newsletter.
Rich