Only Open If You Value Your Privacy
Greetings once again!
If you thought I gave up on the newsletter because you didn't get one last week, then, surprise! I was on vacation and took some time off TV, the podcast and newsletter.
So, let's catch up!
Yes, Virginia, There Is An Amazon Worker Listening
The big story this week - and it should come as no surprise - is that Amazon employs a bunch of workers to listen to the commands people say to Alexa in an effort to teach her to respond better. It makes sense, but it's still eye opening to think that someone might hear you barking at Alexa to play music, change the lights or ask about the medical condition you think you might have.
The good news is that you can opt out of sharing your recordings to "help develop new features" by toggling a setting off in the Alexa app or Amazon website. Just go to amazon.com/alexaprivacy or follow my step by step instructional video.
If you're curious and want to hear what you sound like when you talk to Alexa or Google Assistant, you can access your recordings.
For Alexa, go to amazon.com/alexaprivacy and choose Review Voice History.
For Google, go to your Google Account, then on the left navigation panel, click Data & personalization. In the Activity controls panel, click Voice & Audio Activity. Click Manage Activity. On this page, you'll see a list of your past voice inputs and the date they were recorded.
Apple doesn't currently offer this ability for Siri.
Connected Dash Cams are like a Video Doorbell for your car
I've been testing out a new type of dash cam that has a cellular connection built in. It's called the PureGear PureCam and I'm sort of obsessed. What's neat about these cameras is that they monitor your car 24/7 for any disturbances and send an alert to your phone if detects movement or activity around your car. The other nice thing is that video clips are uploaded to the cloud immediately so if someone steals your car or you get into an accident the video will be stored safely online.
Dash cams haven't taken off in a big way here in the United States, but LTE could be the feature that changes that. Of course, until major car makers let us tap into the video captured by cameras installed at the factory, like the backup camera.
Watch my KTLA segment and see my full review here.
Solo Single Seater Electric Car
Speaking of cars, I got to test drive a funky new electric car. It's called the Solo and it's technically a motorcycle since it has three wheels. Sure, there's no power steering (on the initial model) and the options are pretty limited, but there's no denying it's pretty fun to drive. Also, it's just $16,000. The looks I got on the test drive were priceless.
Watch my KTLA Segment on the Solo single seater electric car here.
Fun Apps to Try
Two apps to tell you about this week if you like to personalize the wallpaper on your phone. I change mine a lot, and I have come to rely on these two apps a lot.
The first is called Clarity. It's for iOS and it solves a pretty simple problem. Ever try to make a photo you took your wallpaper and it just doesn't "fit" right? Clarity formats your photos to perfectly fit the lock screen. You can add text, blur, a gradient, frame (my favorite) or a mask. The best part is that the app lets you preview what your photo will look like on the lock screen, complete with the time and date.
The second is called Backdrops and it's my favorite wallpaper app for Android. It doesn't let you customize your wallpaper, but I find that it has some really awesome selections. My favorite category is Abstract and I also find a lot to like in the Wallpaper of the Day.
iPhone Tip
I got this email from podcast listener named Tomas Puzonas:
"There is a thing that I don't understand, when I leave my home I turning off my WiFi in control center
But after some time I checked control center and find that WiFi is turned on by itself. This is happening a few times, maybe you have any idea what can make it on. Thanks for your answer if you find for me some time."
The explanation: there are two different ways to turn off WiFi on the iPhone. If you're doing it from Control Center (swiping down from the upper right hand corner of the screen or swiping up from the bottom of the screen on phones with a home button) the iPhone can automatically turn WiFi back on by itself if it recognizes another familiar network. This is handy if you say, turn off Wifi every time you leave the house but want your iPhone to reconnect to your home Wifi when you get back home at night.
If you really want to turn off your WiFi for reals you need to go into Settings > Wi-Fi and toggle it off. It will stay off until you turn it back on.
Like this tip? I've got 101 Handy Tech Tips for the iPhone in my bestselling book on Amazon. It makes a great gift for the iPhone user in your life. It's packed with all of the little features I think you should know about. Super easy to understand.
Listen to me on the radio this weekend!
I'll be filling in for Leo Laporte this weekend on his syndicated radio show The Tech Guy. You can listen on KFI AM 640 in Los Angeles from 11-2 PM Saturday and Sunday. You can also find a station near you to listen on, stream on iHeartRadio or watch on live TWiT.
If you have a tech question, call in! The number is 1-888-8-ASK-LEO.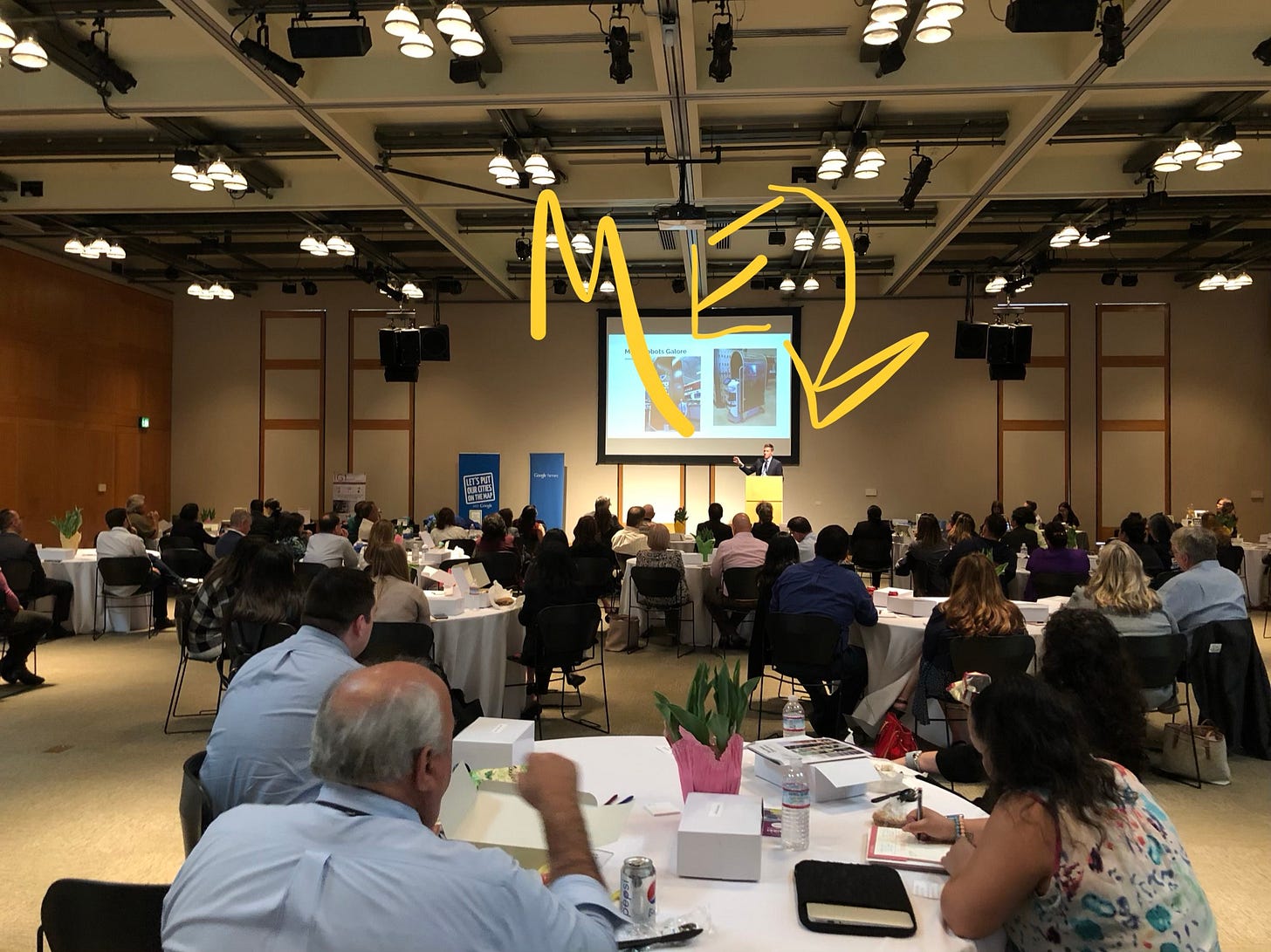 Talking Tech in Cerritos
This week I had the privilege of speaking to a crowd of small business folks at the Cerritos Chamber of Commerce's Business Conference 2019. I showed off some tech trends including robots, AI and shared some of my favorite social media tools including Adobe Spark Post, Unfold for Instagram Stories, Leetags for finding hashtags and Adobe Rush for mobile video editing.
I also demoed some tips from my book 101 Handy Tech Tips for the iPhone and realized something. Showing off iPhone tips isn't very different from the magic tricks I used to perform as a kid. Funny how that happens.
If you want me to come talk at your event, drop me a line!
Listen to my podcast
My podcast is called Rich on Tech and it's new and improved. We're using better equipment to record the show and I now have a sidekick! My KTLA producer Meghan is now joining me on the show to help integrate listener questions. If you have one, email hello@richontech.tv and use the subject line "Podcast Question" and I might answer it on the show. Otherwise, stay tuned for when I bring back live listener phone calls.
If you're not subscribed to the show, you can search Rich on Tech in your favorite podcast app and listen. It's not a show for tech nerds, but I discuss the things I think the everyday person should know about in the tech world.
This week, I talk about the Alexa privacy thing, T-Mobile's new TV service, AT&T's 5G service in Los Angeles and why cord cutting is getting so expensive. You can listen to the episode here.
I think that's about it for this issue of the newsletter. Have a fantastic weekend!
Rich on Tech
P.S. Find me on Instagram, Facebook and Twitter and forward this newsletter to a friend who might like it! Hit the "heart" if you found it useful!