Happy Weekend!
From the desk of Rich on Tech
Hey Friends!
Long time no email! If you're wondering why you're getting this email, it's because you signed up for updates from me at some point on my website. If you don't want to get stuff like this in the future, just hit the unsubscribe button at the bottom, no hard feelings, I promise!
The reason I'm sending emails again is because I finally found a platform which allows me to send them for free to all 9,000 of you who signed up! The other service I was using cost a bunch of money, so that wasn't very effective.
Anyway, I'll try to send these out regularly with a quick update on what I'm up to and some of the interesting things that happened in the week.
Funny, the segment I did this week on 5 Totally Free Ways to Stream Hit Hollywood Movies is now one of the most popular segments I've ever done on KTLA. Lots and lots of you came to the website for more information, and that makes sense. Who doesn't like something for free? These sites will let you watch some decent movies with zero monthly fees, of course there will be ads, sort of like the old days when we watched movies on regular TV.
Apple did something interesting this week: they updated three product lines without a big, splashy event. CEO Tim Cook literally just Tweeted out info about the new products. AirPods got a wireless charging case (that also works with the first gen AirPods), the iPad Mini gets support for the Apple Pencil and the iMacs got new and improved processors. You can watch my full roundup of the new features here.
If you're following me on Instagram, you've probably noticed how I'm now posting my segments there. We're actually taking the time to re-edit them for the vertical format which looks great on a cell phone screen. So special thanks to my editor Luis for putting in the extra effort to make those perfect for IGTV. You can watch the story we did on how Goodwill is using a special AI scanner to spot fake purses so they don't resell counterfeit goods on their website, shopgoodwill.com. (Also, check that out, it's like an eBay for all the unique stuff they get donated).
I've been working hard to produce a podcast each and every week. You can listen to the latest episode here, and no, you don't have to be a total techie to enjoy it. I try to feature stories and news that I think are relevant to the average person. I'm not trying to outdo The Verge or Engadget, but really present things I think you should know about. Two things I really like in this weeks episode: the discussion on how a new Postmates feature can help you save on food delivery costs and Citizen, a new app that alerts you to real crimes and police activity happening right in your neighborhood. I find it to be much more useful than Nextdoor. It just launched in the LA area and it's in a few other cities nationwide.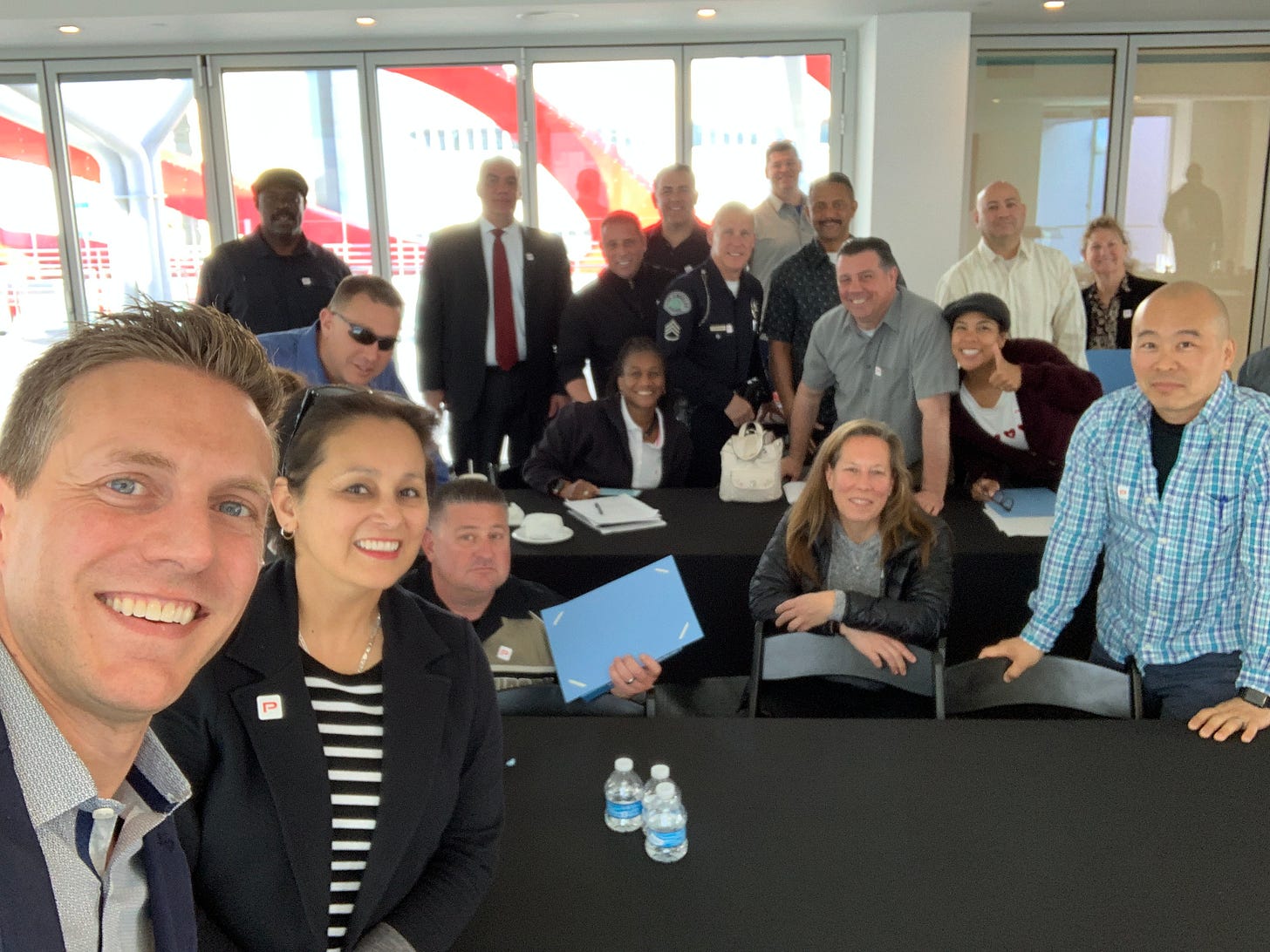 Speaking of police officers, I was honored to speak to the LAPD West Traffic Division Supervisor's meeting. I talked about some of the latest tech trends and showed them a few iPhone tricks from my book, 101 Handy Tech Tips for the iPhone.
If you haven't gotten a copy, and you have an iPhone, I highly recommend you check it out. It is filled with lots of little things I think you should know about the iPhone. It currently has 4.5 stars on Amazon, which is no easy feat. Thanks if you've already picked up a copy (or two) for yourself, a friend or family member. It makes a great gift.
Next up, I'll be speaking at the Cerritos Chamber of Commerce Business Conference 2019 on Tuesday, April 9. I'll talk about tech trends and how businesses can use social media to their advantage. I have lots of thoughts on this topic, so grab a ticket and be sure to say hi or get a photo with me!
Finally, a few things I've been loving lately.
Aaptiv is a really cool fitness app and it's been helping me have lots of fun working out. It's like having a personal trainer in your ear.
If you wear glasses and have an iPhone X, XS or XR, check out the new Warby Parker app. It has the most realistic "glasses try on" feature I've ever seen. Really fun for adults and even kids.
Hello Fresh is an awesome meal kit delivery service. My wife and I are cooking dinner together pretty much every Thursday night and then one weekend night. It's so easy to follow the directions and it definitely saves you money by not going to a restaurant. Easy date night at home. Take $40 off your first box with my referral link.
Milk and Eggs is also really cool. Think old school milk man delivery, but with a ton of organic produce and local foods. They delivery to your home between 5 and 7 am. We usually get our delivery on Saturday mornings so we can cook a nice breakfast and have fresh fruit around the house all weekend long. The quality is outstanding. Take $20 off your first order with my referral link.
Before I sign off, one more handy tool for shopping online - it's called Wikibuy. I don't shop online without it. It automatically adds coupon codes at checkout and in my experience, it has codes that work more often than not. Install it for your web browser and you'll be pleasantly surprised how well it works.
Just want to say a quick thanks to my pal at USA Today, Jefferson Graham, who inspired me to start doing these emails again. He found this cool new service I'm using called Substack. Thanks, Jeff!
Let me know if you like these letters and what you would like to see in them. Just hit that reply button and your response will make its way right to my inbox. Have a fantastic weekend!
Rich DeMuro