from the desk of Rich on Tech
Hello!
As you might have noticed, these newsletters have become a semi-regular thing. It just means that when you get one, they'll be packed with the most relevant information I have to offer!
For those of you who wait with bated breath each week for the latest issue, please accept my sincere apologies.
With Black Friday and Cyber Monday behind us, we are now deep into the holiday shopping season. There's a package on every doorstop in the neighborhood. That's how you know.
Black Friday was particularly fun for me. KFI let me host 4 hours on the radio, which I've never really done before. Sure, I've filled in for Leo, but that's much more structured. This was pretty much anything goes, and I had a blast. If you listened, thanks!
Now, let's get to the stuff you should know, shall we?
Google, Amazon & Apple Add New Ways to Protect Your Privacy
At first, many embraced all of these new voice assistants without thought of the privacy repercussions of welcoming microphones into our pockets and homes, now we've gotten a little smarter.
The tech companies have taken notice, and they now offer some new ways to delete the things you've said to these assistants. It's worth knowing how to do it.
Hit up the link for a little lesson in the latest privacy settings that can help you out!
https://ktla.com/2019/11/18/google-assistant-alexa-apple-siri-delete-voice-search-history/
2019's Top Apps Take Your Instagram Posts to the Next Level
Apple and Google recently named their top apps of 2019 and a lot of them have to do with social media. Fun little creation tools that can really make your Instagram posts, videos and stories look their best.
My favorite is the top camera app, called Spectre. I played with it at Disney California Adventure last night and was super impressed. You can basically take pictures that look like no one else is around. It sort of erases people and cars while leaving your main subject. Super cool stuff. Unfortunately, it was too dark out for me to get any Instaworthy results, but I will be trying this again very soon in the daylight!
Hit up the link for some cool and unique apps to potentially add to your home screen.
https://ktla.com/2019/12/06/apple-google-top-apps-2019-social-media/
My New Book '101 iPhone Tips & Tricks' Explains Latest iOS 13 Features
Thanks to you, my latest book is already the #1 bestselling iPhone guide on Amazon. We did a segment on KTLA highlighting some of the fun tips inside. Take a look and you might even learn something new!
https://ktla.com/2019/11/22/rich-demuro-iphone-book-ios-13-101-iphone-tips-tricks/
My book makes the perfect holiday gift. Over and over, people come up to me and tell me that they like how I explain things in a way that they can actually understand. That's what my book is all about. Making the iPhone's useful features understandable to everyone, not just techies.
Right now, you can even get a personalized, signed copy using this link:
I Tried on Google and Levi's Smart Jean Jacket and It's Cool, but Not There Just Yet
Google and Levi's have collaborated on some cool new technology that weaves sensors into clothing. I tried on their jean jacket and it's neat to see what they're done, but it's probably not something you need to run out and get right now.
The idea is that you connect your phone to your clothing through Bluetooth and you can now control certain functionality - like skipping tracks and hearing the current time - with a simple gesture on a pressure sensitive sleeve.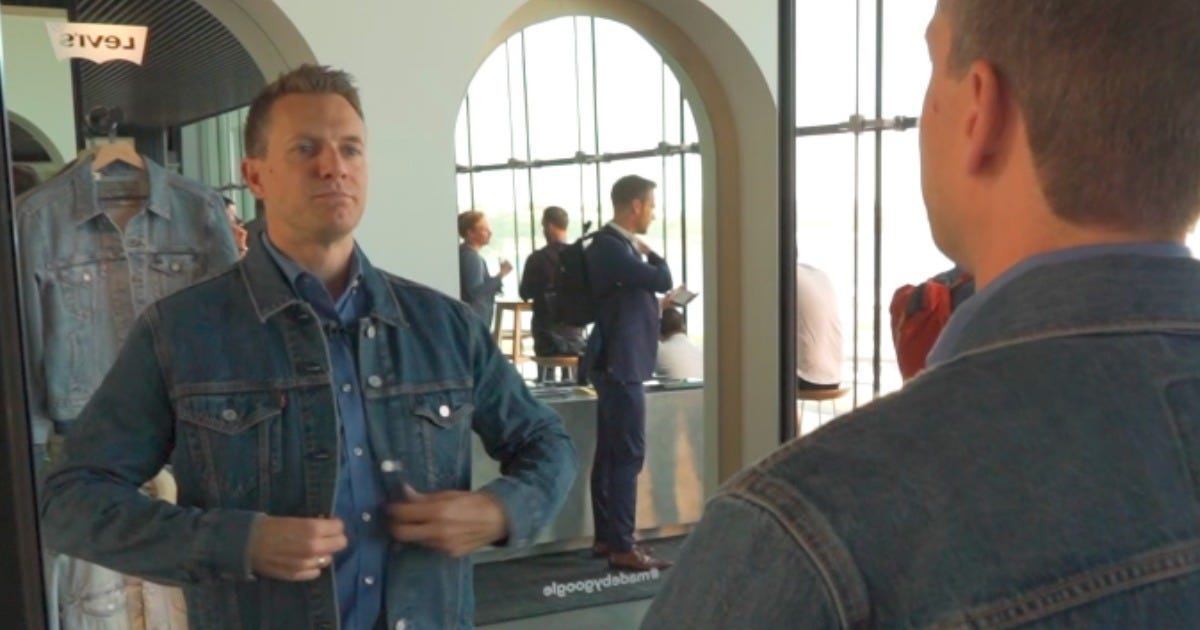 Check it out, if only to see me embracing a jean jacket again after all these years.
https://ktla.com/2019/12/04/google-levis-smart-jean-jacket/
Rich on Tech Podcast
In my podcast, I talk about the tech stories I think you should know about and answer the questions you send me.
This week:
An upcoming iPhone might ditch wired connectors completely; Google Photos gets a feature to help you send picture messages to friends and family; breaking down the FBI's smart TV warning; Mattress hackers; best apps of 2019.
Listeners ask about the best duplicate file finder programs, the best flip phone for seniors, Apple's credit card reporting to credit agencies, wireless charging pads versus power banks and the best Apple Watch for the gym.
Take a listen using the link below or search "rich on tech" in your favorite audio app.
https://art19.com/shows/rich-on-tech/episodes/b587e92f-a382-4d36-b2a3-e4cc0c817734
Holiday Gadgets 2019 on Hallmark Home & Family Show
I'm super jealous of the Home & Family house. It's so warm and cozy, you sort of forget it's actually just a set on the backlot at Universal Studios. I chatted with host Debbie Matenopoulos about some cool gadget gift ideas. BTW, she was super duper nice, so fun to meet her!
If you want more info on the gadgets I showed off, hit up this link:
https://richontech.tv/2019/12/media-appearances/rich-demuro-tech-gadgets-hallmark-home-and-family-show-december-2019/
That's going to do it. One more thing. So random, I know… but I shared a picture of this ginger dressing I found at Target on Instagram Stories and I can't believe how many people messaged me about it. Guess I'm not the only one who loves the Benihana salad dressing! This is super similar. We found it in the refrigerated section at Target. You're welcome.
Have a fantastic weekend!
Rich